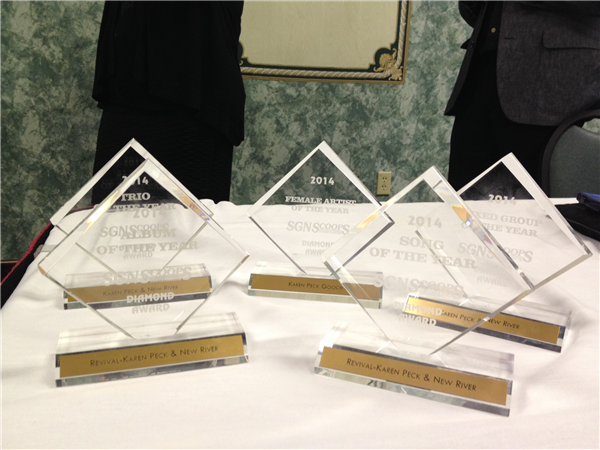 Dalhonega, GA (November 5, 2014) Karen Peck and New River added more awards to their mantle last night as they captured five Diamond Awards in Pigeon Forge, TN. The added awards include:
MIXED GROUP OF THE YEAR, SONG OF THE YEAR, ALBUM OF THE YEAR, FEMALE SOLOIST OF THE YEAR and TRIO OF THE YEAR.
Karen stated, "We are so thankful to The Lord for this season in our ministry. We started the year off declaring REVIVAL all around this country. The Lord continues to show us His faithfulness. If one person is touched by something we say or sing, then it's worth every mile that we travel. These awards are special 'nuggets' of encouragement to keep doing what we're doing. We are incredibly grateful to everyone who voted for us."
She continued saying "A special thanks to Rob Patz and SGN Scoops, Daywind Records, producer Wayne Haun, all of the songwriters (Kenna West and Don Poythress co-writers of 'Revival'), Southern Gospel radio, AG Publicity, and The Harper Agency. It is a tremendous blessing to be a part of a great team of hard working people who are eager to spread the Gospel of Jesus Christ."
"We were so honored to win 5 Diamond Awards last night. I would like to thank everyone for your prayers and support." Susan Peck Jackson
"Last night was such a blessing to be at the Diamond Awards. We thank the Lord for newness this year, things that are fresh and new. Thanks to everyone who voted, and may God reveal new things for all of us to be thankful for this year." stated Jeff Hawes
To learn more about Karen Peck go to
http://www.karenpeckandnewriver.com
or
https://www.facebook.com/pages/Karen-Peck-and-New-River
. You can Twitter her at
https://twitter.com/karenpeckgooch
.
Karen Peck and New River are booked by The Harper Agency. Contact them at
http://www.harperagency.com
or by E-mail at
info@harperagency.com
.